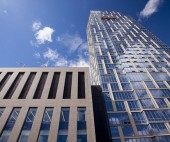 Research in the Bakel lab is focused on applying novel genomics technologies to fundamental problems in infectious disease to understand host:pathogen interactions and the molecular basis of evolution and transmission of bacteria and viruses, which we hope will provide insights into new treatment options and approaches to prevent the spread of infectious diseases.
The lab is located in the Hess Center for Science and Medicine (left) and is part of the Department of Genetics and Genomic Sciences and the Institute for Genomics and Multiscale Biology at the Icahn School of Medicine at Mount Sinai.
Projects in the lab are funded through grants from NIH/NIAID, NIH/NIDCR, NIH/NIMH, CIHR and Icahn School of Medicine.