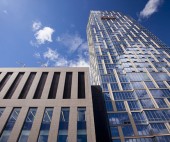 Research in the van Bakel lab is focused on understanding transcription regulation, coding/non-coding RNA biology, and genome architecture, with an emphasis on their relationship to disease.
The lab is located in the Hess Center for Science and Medicine (left) and is part of the Department of Genetics and Genomic Sciences and the Institute for Genomics and Multiscale Biology at the Icahn School of Medicine at Mount Sinai.
Projects in the lab are funded through grants from NIH/NIAID, NIH/NIDCR, CIHR and Icahn School of Medicine.